Fifteen years ago, Peoples Health launched the Champions program in partnership with the New Orleans Saints to celebrate exceptional achievement after age 65. We've honored more than 130 Champions. From athletes to artists, entrepreneurs to community activists, Peoples Health Champions do great things, not in spite of their age, but because their age and experience give them greater capacity to do those great things.
Champions don't have to be Peoples Health plan members, but it was the vitality of our members that inspired the program to begin with.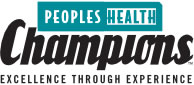 Know a Champion? Nominate him or her today!