Nearly every Louisiana city and town has its own traditions for honoring Mardi Gras, the state's most festive annual event. All along the bayou, throughout Acadiana and up to the northernmost part of the state, Carnival season is for feasting, parading and celebrating.
New Orleans is commonly thought of as the Mardi Gras mecca, with its glitz and hefty tourist participation, and although many Louisiana regions host similar traditions, others keep theirs closer to heart, observing the season in their own indigenous way. Indulgences—like king cake, pralines, music and masking—may cross regional Mardi Gras lines, but there are some subtle and not-so-subtle celebratory differences.
Mardi Gras Down the Bayou
Houma hosts a grand Fat Tuesday celebration that blends the area's Cajun hospitality with dozens of parades, packed with colorful and themed homemade floats; marching bands; lavish costumes; and Mardi Gras royalty.
The focus is on family-friendly events, and in some more rural areas in the bayou region—like Larose, Cut Off, Golden Meadow and Lockport—cooking out with family and friends is at the heart of the festivities. Favored foods are barbecue, boiled crawfish, boudin and roast pork. Most parades run down Highway 1, and residents line up along the route, spreading out blankets and lawn chairs, waiting for the parade to roll. Those lucky enough to live on the route gather together for a potluck and get comfortable on their front porches and lawns. A common saying in these parts is "a Cajun never meets a stranger." Everyone is welcome to come on by, share a plate and pass a good time.
Acadiana Mardi Gras
Many Creole and Cajun communities across Louisiana's prairie parishes host their version of Courir de Mardi Gras—the "Fat Tuesday Run"—a community-based celebration that draws on traditions centuries old. The city of Eunice hosts one of the largest. Participating in the day-long event is known as "running Mardi Gras." With spectators following along, a parade of les Mardi Gras (as the runners are called) travels through fields—on foot, on horseback, or in hand-decorated trucks, trailers, wagons or tractors—going farm to farm and house to house, asking for contributions of food, livestock or money for a communal gumbo to culminate the day. Often, farmers toss the most prized trophy, a chicken, into the air and les Mardi Gras race to catch it.
Runs are led by a captain and co-captains, and there are rules to follow. For starters, everyone participating must either join the race or play music, and everyone must be in costume. Residents mask and wear colorful handsewn costumes with cone hats to match. What's more, at each stop along the way les Mardi Gras dance and do stunts to entertain donors as the musicians perform a traditional Mardi Gras ditty. The procession ends in the town center with a feasting celebration, followed by a fais do-do.
In and around Lafayette and Morgan City, residents celebrate in other ways, too, including with parades, marching bands, Mardi Gras Indians in elaborate costumes, and extravagant Mardi Gras balls featuring a king and queen. Boudin and cochon de lait, along with gumbo, are especially part of Cajun Mardi Gras feasts.
Mardi Gras au Coeur de la Louisianne (Mardi Gras in the Heart of Central Louisiana)
The festivities here are fairly young and still developing, as the area has only recognized Carnival since 1994, but residents are becoming more enthused about the season with each passing year, establishing krewes, hosting parades and focusing on family-friendly events. Alexandria's Annual Children's Parade is one of the season's biggest draws.
Ark-La-Tex Mardi Gras
Some say the Shreveport-Bossier area is home to some of Louisiana's largest parading Mardi Gras krewes. There are about 15 krewes, including an "animal krewe," where furry friends reign. The area has celebrated Mardi Gras since the late 1980s. Krewes host elegant masked balls, with proceeds supporting local charities, and grand parades, for which spectators secure a spot along the route and set up tents to barbecue or grill while awaiting the floats to roll. To keep festivities family-friendly, the city designates certain areas as alcohol-free zones. Some krewes even have "float loading" parties, commonly called the "party before the party," where revelers can visit the krewe's den as the floats are prepared for parading.
Folks from nearby towns in Texas and Arkansas join in on the fun. And the Ark-La-Tex Mardi Gras Museum houses an impressive display of Mardi Gras royalty costumes. It's run by the Krewe of Gemini, the area's oldest krewe, and highlights Mardi Gras in northern Louisiana.
While Mardi Gras traditions may vary across Louisiana, what we're all celebrating during the Carnival season is shared community and our shared heritage.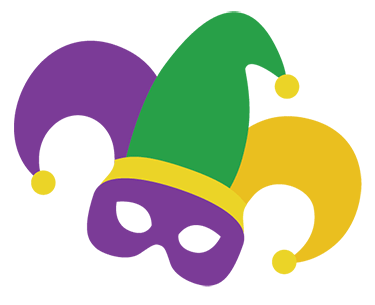 Floats and parades and revelry…oh my!
Mardi Gras is famously thought of as being one serious party, but its roots are in history and religion.
Mardi Gras means "Fat Tuesday" in French.
It's the day before Ash Wednesday, which marks the start of Lent in Christianity.
Historians think the first American Carnival was on March 3, 1699, when French explorers landed in what is now Louisiana, just south of what came to be New Orleans.
Tradition has it that people could only eat fish during the 40 days of Lent, and Mardi Gras was a way to use up other, richer foods before the fasting started.